Take a Virtual Tour of our Store
APPAREL - ART GALLERY - CUSTOM T-SHIRTS - E-CIGS - EUCALYPTUS OIL - GIFT IDEAS - GREEN CLEANERS - JEWELRY - KRATOM - NATURAL HEALTH - NATURE & WILDLIFE PHOTOS WHOLESALE

"The Biggest Little Shop on Pine Island"
From fine art to spy cameras and GPS Trackers. Specialty products are our business. Electronic Cigarettes and accessories, Self Defense products include stun guns and pepper sprays. We carry hand painted denim purses, copper and magnetic jewelry, Eucalyptus Oil, Vitamins and Herbs, Swarovski crystal nightlights and a wide variety of specialty gifts and hard to find items.
Our retail store hours are Tuesday thru Saturday from 10 AM to 5 PM
Privacy, Shipping and Return Policy
Netshops USA LLC
P.O. Box 738
Bokeelia Florida 33922
Store Address
4195 Pine Island Road N
Matlacha Fl 33993
Phone 239-282-0471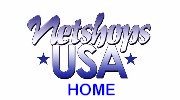 Copyright © 1999-2014 Netshops USA All Rights Reserved.
Links